We help exterminate every type of pest that may pose as threat to your health or comfort. Our experienced technicians work round the clock to ensure all our clients are completely free from such pests.
FUMIGATION & PEST CONTROL SERVICES
WE ARE A COMMERCIAL AND DOMESTIC PEST CONTROL SERVICE COMPANY WITH BOTH ODORLESS METHOD AND OTHERS
CHCM Pest Control is your most trusted company to eliminate all forms of pests that trouble your health and peace in all residential and commercial buildings through out Nigeria. We are certified and provide the highest professional pest control service.
In your business place is you residential home we have got you completely covered with the perfect pest control remedy that will guarantee that perfect result.
What is Fumigation?
Fumigation is one of the method of pest control for the removal of harmful micro-organisms by completely filling an area with gaseous pesticides or fumigant to suffocate or poison the pests within a particular habitat. It is used to control pests in buildings (structural fumigation), soil, grain, and produce, and is also used during processing of goods to be imported or exported to prevent transfer of exotic organisms. This method also affects the structure itself, affecting pests that inhabit the physical structure, such as woodborers, termites, mosquitoes, snake's, crabs, frogs etc.
Add title
THE OLDEST COMPANIES WE RENDER OUR SERVICES


What is Fumigation?

Fumigation is one of the method of pest control for the removal of harmful micro-organisms by completely filling an area with gaseous pesticides or fumigant to suffocate or poison the pests within a particular habitat. It is used to control pests in buildings (structural fumigation), soil, grain, and produce, and is also used during processing of goods to be imported or exported to prevent transfer of exotic organisms. This method also affects the structure itself, affecting pests that inhabit the physical structure, such as woodborers, termites, mosquitoes, snake's, crabs, frogs etc.


SOME PICTURES OF DEAD PESTS FROM DIFFERENT PEST CONTROL SERVICES WE HAVE CARRIED SUCESSFULLY RENDERED IN NIGERIA
When best to Fumigate?
Fumigation may be required under any of the following circumstances:
To ensure a laboratory is decontaminated before the annual inspection and verification
Following a spillage or leakage
To prevent cross and background contamination
To create a sterile environment
During the decommissioning of a CL3 facility
As part of a fumigation efficacy study
When there is any sightens of pest and insects
When the stipulated time for routine fumigation is due.
Fumigation Validation & Proof
It is important to validate the fumigation using Biological Indicators (BIs) to verify effectiveness. There are various types of BIs available depending on the type of fumigant used.
Sealability of CL3 and CL4 Facilities In Nigeria
All laboratories which require fumigation will need to provide evidence to the Health and Safety Executive (HSE) that sealability tests using smoke pencils have been undertaken and any identified leak paths adequately rectified.
Emergency CL3 Fumigation Scheme
Advisory Committee on Dangerous Pathogens (LASEPA) guidance stipulates the requirement to be able to safely fumigate a facility in the event of a spillage or leakage which could lead to widespread contamination (routine fumigation is not stipulated).
In addition, a documented fumigation protocol is required for every CL3 laboratory, which should include a fumigation efficacy study which is validated using biological indicators, to ensure the effectiveness of an emergency fumigation.
In the case of a spillage in your CL3 laboratory Crowthorne Group offers an emergency fumigation scheme. Our highly trained engineers will attend your site within 24 hours to fumigate the potentially contaminated facility, dramatically reducing any downtime.
Biosafety Cabinet Fumigation
Routine Fumigation
According to BS EN 12469:2000 and the Advisory Committee on Dangerous Pathogens (ACDP), Biosafety Cabinets should be fumigated:
Before any work on the safety cabinet where access to potentially contaminated parts is necessary, including pre filter and main filter changes
Before undertaking in situ HEPA filter leak integrity testing
After a spillage where inaccessible surfaces may have become contaminated
Before maintenance engineers are permitted to work on the equipment
Crowthorne Group offer Equipment Bio-Decontamination Service (EBDS) specifically designed to fumigate microbiological safety cabinets, incubators, robotic enclosures and similar laboratory equipment.
Where there are a number of safety cabinets to service, we perform an overlapping fumigation and service schedule to drastically reduce laboratory downtime.
Emergency Fumigation
Emergency fumigation can also be arranged under a regular schedule contract or ad-hoc depending on the requirements of your facility.
Formaldehyde vs. Hydrogen Peroxide Fumigation
Whilst hydrogen peroxide fumigation has been proven to be a safe and efficient method of fumigation, many users prefer to stick with the 'tried and tested' solution of formaldehyde decontamination for its highly reliable and effective results, its broad antimicrobial efficacy and its log reduction.
As formaldehyde requires a lengthy contact time, fumigation is generally run overnight. Your engineer will return to site the next morning to complete the fumigation process, making sure the safety cabinet is fully decontaminated and ready for use, ensuring minimal disruption and downtime of the safety cabinet.
BED BUG FUMIGATION AND ERADICATION
Bed bugs are the worst. They can drive a person crazy and can even make you throw away you properties when they have multiplied beyond your control. In some cases they have caused people to park out of their homes and relocate living all their properties behind.
DEAD BED BUGS
MOSQUITO FUMIGATION AND ERADICATION
These are shockingly one of the highest courses of sickness and death in Africa. Before the discovery of the cure of malaria caused by ANAFOLOUS MOSQUITOES, malaria was almost a death sentence and a terminal ailment. Now even with the cure, lives are still taken and sometimes even the disease is resistant to treatment leading to stronger forms of treatment and greater damage in side effect to the human bodies.
DEAD MOSQUITO
RODENTS RATS AND MICE FUMIGATION AND ERADICATION
One of the most destructive and annoying pest that could be i a home or office are rodents. They can eat anything including human beings. They can eat your wire cables, your wooding doors, your cloths, your shoes etc. Do you know that the deadly LASA FEAVER is carried by rodents making them a deadly enemy to infiltrate a home.
DEAD RODENT
You have nothing to worry about, we have every method and the necessary equipment's to completely eradicate them from your home and your environment
FUMIGATION OF COCKROACHES
There are many kinds of cockroaches in the world, to be specific there are about 8 types or breeds of roaches in the world but 5 of them are very common in Nigeria
The American cockroach, Periplaneta americana (Blattaria: Blattidae) and the German cockroach, Blattella germanica (Blattaria: Blattellidae) are considered two of the most common and notorious cosmopolitan pest species in Nigeria (5) and globall
Cockroaches are full of bacteria and so a carrier of various kind of deadly desease. Their reproduction is super fast.
As with many animals, cockroach reproduction relies on eggs from a female and sperm from a male. … Most roaches are oviparous — their young grow in eggs outside of the mother's body. In these species, the mother roach carries her eggs around in a sac called an ootheca, which is attached to her abdomen.
DEAD COCKROACHES
MORE ON THEIR REPRODUCTION
Many female roaches drop or hide their ootheca shortly before the eggs are ready to hatch. Others continue to carry the hatching eggs and care for their young after they are born. But regardless of how long the mother and her eggs stay together, the ootheca has to stay moist in order for the eggs to develop.
Other roaches are ovoviviparous. Rather than growing in an ootheca outside of the mother's body, the roaches grow in an ootheca inside the mother's body. In a few species, the eggs grow inside the mother's uterus without being surrounded by an ootheca. The developing roaches inside feed on the eggs' yolks, just as they would if the eggs were outside the body. One species is viviparous — its young develop in fluid in the mother's uterus the way most mammals do. Ovoviviparous and viviparous species give birth to live young.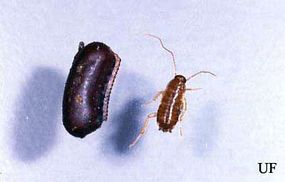 Oootheca and nymph of the oriental cockroachIMAGE COURTESY PAUL M. CHOATE, UNIVERSITY OF FLORIDA
Whether mother roaches care for their young also varies from one species to another. Some mothers hide or bury their ootheca and never see their offspring. Others care for their offspring after birth, and scientists believe that some offspring have the ability to recognize their mothers. The number of young that one roach can bear also varies considerably. A German cockroach and her young can produce 300,000 more roaches in one year. An American cockroach and her young can produce a comparatively small 800 new roaches per year.
Newly hatched roaches, known as nymphs, are usually white. Shortly after birth, they turn brown, and their exoskeletons harden. They begin to resemble small, wingless adult roaches.
Nymphs molt several times as they become adults. The period between each molt is known as an instar. Each instar is progressively more like an adult cockroach. In some species, this process takes only a few weeks. In others, like the oriental cockroach, it takes between one and two years. The overall life span of cockroaches differs as well — some live only a few months while others live for more than two years.
Cockroaches generally prefer warm, humid, dark areas. In the wild, they are most common in tropical parts of the world. They are omnivores, and many species will eat virtually anything, including paper, clothing and dead bugs. A few live exclusively on wood, much like termites do.
Although cockroaches are closely related to termites, they are not as social as termites are. Termite colonies have an organized social structure in which different members have different roles. Cockroaches do not have these types of roles, but they do tend to prefer living in groups. A study at the Free University of Brussels in Belgium revealed that groups of cockroaches make collective decisions about where to live. When one space was large enough for all of the cockroaches in the study, the cockroaches all stayed there. But when the large space was not available, the roaches divided themselves into equal groups to fit in the smallest number of other enclosures.
Another study suggests that cockroaches have a collective intelligence made up of the decisions of individual roaches. European scientists developed a robot called InsBot that was capable of mimicking cockroach behavior. The researchers applied cockroach pheromones to the robot so real roaches would accept it. By taking advantage of roaches' tendencies to follow each other, InsBot was able to influence the behavior of entire groups, including convincing roaches to leave the shade and move into lighted areas. Scientists theorize that similar robots could be used to herd animals or to control cockroach populations.
In addition to robotic intervention, there are several steps that people can take to reduce or eliminate cockroach populations. We'll look at these next.
SNAKE FUMIGATION AND ERADICATION
On farm lands and even in some occasion at residential homes the issue of snakes can be a pressing challenge. Its true that not all snakes are dangerous but its still scares the hell out of those who are not comfortable with snakes in their environment. That is why when it comes to snake eradication we ensure that non of the neigbours is looking for their missing snake pets before we begin our fumigation exercise.
DEAD SNAKE
The method we use is total extermination and the spraying of various repellent chemicals to keep all snakes away from your environment for a period of 3 to 6 months depending on the weather.
CENTIPEDE FUMIGATION AND ERADICATION
These are crawling pests that like to live in very cool places, you can easily find them in places that channel water in your house in between the crack. There are of different spices some harmless but some are very deadly. One sting from them can carry a whole lot of toxins.
DEAD CENTIPEDE
With our special chemical solutions, we completely eradicate them and their chance to reproduce in your habitat.
BIRD FUMIGATION AND PEST CONTROL
As beautiful as birds can be sometimes its the last thing you want in your habitat for different reasons. Some people are allergic, others the birds tend to be destructive to their goods and property.
What ever kind of bird that is terrorizing you by day or by night, with one phone call to us consider the issue solved.
WEED AND GRASS FUMIGATION
We also eliminate grasses that grow in your habitat. As you know, grasses in an environment can be a breeding ground for all kinds of insects, reptiles, and insects. No matter how large the structure we have got you covered. With the use of our machines and chemicals the grasses in your habitat will be completely eliminated.
\